Grazie infinite Johnny!

E' uscito "Dark Traumsender" Remixes
ACQUISTALO SU BANDCAMP
BUY NOW
TENEDLE su SPOTIFY

Bridget Grey & Johnny Normal new logo rispettivi programmi su Artefaktor Radio hanno incluso brani da Odd to love nelle loro playlist. Grazie!! E naturalmente grazie infinite ad Artefaktor Radio!!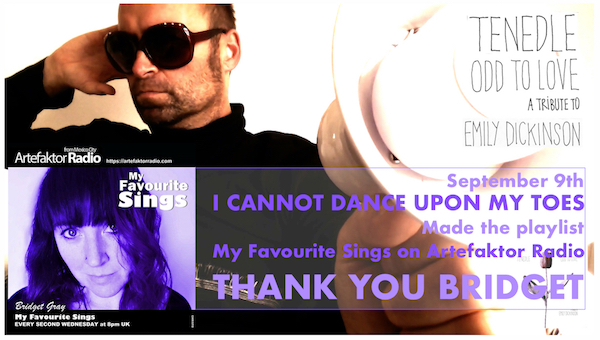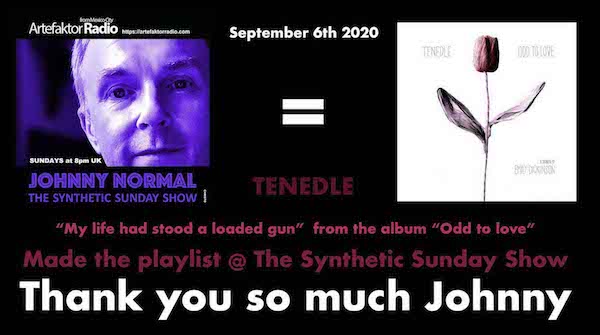 Il nuovo video "The brain is wider than the sky" traccia numero 3 di "Odd to love" featuring Bert Lochs (flicorno):
Guarda anche il video di "I cannot dance upon my toes":
Ordina il bellissimo nuovo album di Tenedle Odd to love
LA RECENSIONE DI MUSICAMAG
Tenedle, al secolo Dimitri Niccolai, fiorentino trapiantato ad Amsterdam, è un artista a tutto tondo il cui universo non si è mai limitato alle sette note, essendo da sempre ogni sua performance un'incontro di musica, teatro, video art e poesia. Il suo nuovo progetto "Odd To Love" è un toccante tributo alla poesia di Emily Dickinson e, in generale, alla struggente fragilità della bellezza. Le melodie del disco, inusuali nello sviluppo ma al tempo stesso permeate nell'intimo da una cantabilità aperta, vestono le parole della poetessa con maestria e grazia, evitando accuratamente qualsiasi forma di enfasi o retorica e mirando a cogliere e rappresentare la pura essenza di ogni stato d'animo, in un melting pot di echi beatlesiani, ombre post-wave e derive jazz immerse in un'elettronica calda. Se intendete acquistare un solo disco da qui alla fine dell'anno, fate in modo che sia questo.
Alessandro Hellmann – Musicamag (ottobre 2015)
http://www.musicamag.com/joomla/